SPANISH ACADEMY FOR FOREIGNERS IN Sanchinarro
For children, teens and adults
Do you want to speak in Spanish to make some local friends?, take care of paperwork or appointments by yourself?, have business conversations at work?, hire local services? Study in a Spanish college or University or are you expat parents whose children are learning Spanish in school and want to be able to help them with their learning and integration in the school?
At UpLevel Sanchinarro, located in North Madrid (Hortaleza – Sanchinarro), we offer Spanish classes in semi-intensive courses in groups and also One to One classes, fully adapted to your needs and goals.
Reach us out for more information about our available courses!
Ready to UpLevel your Spanish?
OUR PROGRAMS TO LEARN SPANISH IN MADRID
From September to June. Weekly classes, 2, 3 or 4 hours classes per week. Groups organized by Level and Age. Beginners to Advanced Levels. Small groups. Students can join groups at any time prior taking a placement test.
ONE TO ONE AND CLOSED GROUPS
One to One (1 student) or Closed Group classes (2 to 3 students). Classes 100% adapted to the students level and goals. Flexibility and faster progress. Flexible schedule.
SPANISH FOR KIDS AND TEENS
Classes for children and tennagers from 5 to 18 years Classes oriented to help expat students with their Spanish learning, both for integration in their school and community and also school support.
Classes for expat adults that want to learn or improve their Spanish.
From Beginner to Advanced Level and preparation for SIELE or DELE exams.
Everyday Spanish conversations (travelling, making friends, shopping…) and spanish for business classes.
OUR SPANISH TEACHERS FOR FOREIGNERS
Native spanish teachers. Our spanish teachers are certified to teach spanish to foreigners, have expertise in the field and in the preparation for SIELE or DELE exams.
We are a committed team that values education, respect everyone's opinions and cultural differences.
Our teachers have a strong vocation for teaching and the wellbeing of our students.
You can find a creative and inspired team at our Sanchinarro Academy!
INFORMATION AND RESERVATION

Contact us to get more information about our courses or to make a reservation.
UpLevel Academy Sanchinarro
Calle Américo Castro 16, Local Bajo, 28050, Madrid.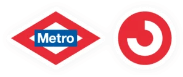 Phone:
91 752 83 52
630 565 138